December 10, 2021
Posted by:

EAB

Category:

News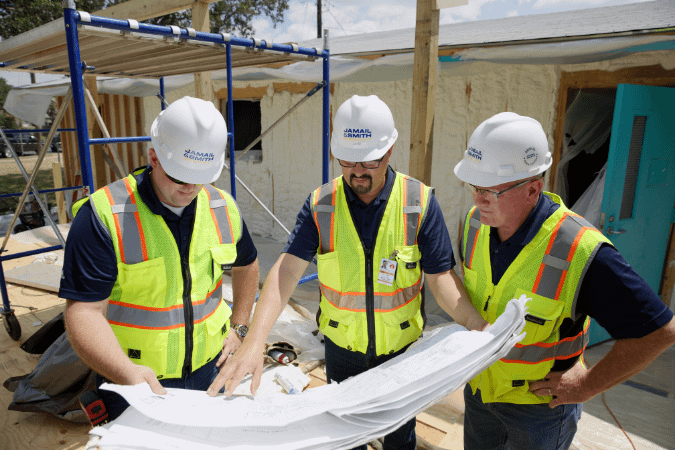 Have you ever thought about what goes into a construction project? And the different teams involved to make it happen? And how each team has a specific role to be played? And without collaboration from all parties involved, the project might not turn out as planned? If you have ever wanted to look behind the scenes, today is your lucky day! We have the unique opportunity to give you a peek!
Let's take a look at the Clear Brook High School Project for Clear Creek Independent School District that was successfully completed by Jamail & Smith Construction (Jamail & Smith) and Engineered Air Balance (EAB).
At the beginning of the project, the EAB team verified their scope, which included mechanical and electrical changes to the building, to ensure that everything ran smoothly. Additionally, to make sure that what EAB likes to call an "optimum operating facility" was delivered, independent testing was conducted to review and measure all aspects of the building performance from initial design through the operations phase. This required close communication with the Jamail & Smith team during testing and corrections.
Tate Stoneham, EAB Commissioning Coordinator, commented on his experience working alongside Jamail & Smith, "The Jamail & Smith team was in constant communication with our team, were very thorough, supported all aspects of the project, and were willing to do whatever it takes promote a positive experience and successful outcome." At Jamail & Smith, they refer to this as a quality construction result.
The Jamail & Smith team served as the general contractor on the project, and they oversaw the installation and construction efforts, including the electrical portions of the project. They also coordinated with the subcontractors on site to support the commissioning and test and balance processes. Tim Dudley, EAB Project Manager commented that, "Jamail & Smith is absolutely a team player. They worked alongside us to deliver a quality product to the client. They were extremely instrumental in doing this, and they are definitely a team you can count on."
The EAB team provided leadership, technical knowledge, teamwork, and strong communication skills throughout the project. Their transparency about challenges, and their ability to provide solutions that would adhere to the owner's designed intent truly made you feel the difference. Cameron Crawford, the Jamail & Smith Assistant Project Manager, said the following, "EAB made the process really simple! Everything was correctly outlined and perfectly executed because of their leadership. The EAB team's adherence to quality and consistency was evident the moment they stepped on the project. Their team was incredibly transparent about challenges and provided strong communication and visibility to the team and the client." He went on to say, "it was evident that the EAB team would never leave a project until they delivered an optimum operating facility."
Clear Creek Independent School District benefitted from this collaboration because of how smoothly the Engineered Air Balance and Jamail & Smith Construction teams worked together to deliver a quality construction result that you can feel. In the end, their mutual client received an outcome that benefitted the students, teachers, and staff at Clear Brook High School.