At EAB, our team of experts are uniquely equipped to train the next generation of technicians, engineers and building operators. Our state-of-the art training center in Houston, Texas is committed to developing technical knowledge, expertise and problem-solving skills to move the entire industry forward.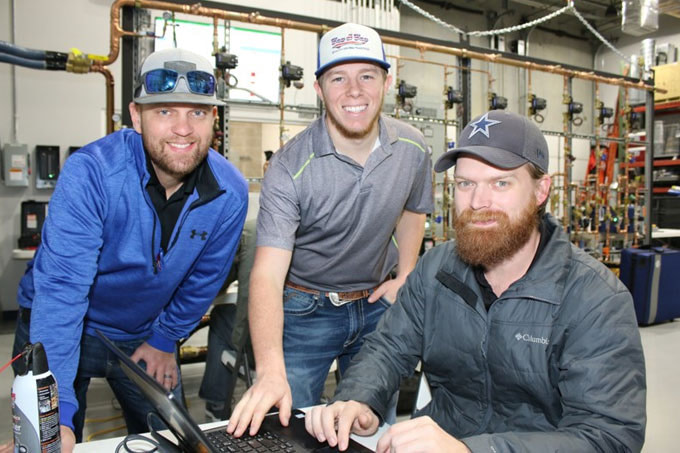 Learn About Our Training Programs
EAB has developed exclusive competency-based learning programs to provide practical industry training. Instructor-led classes with hands-on demonstrations offer enhanced learning opportunities to introduce and reinforce skills necessary for successful technicians. The multidisciplinary courses will increase proficiencies needed for total system balancing, building commissioning, control sequence verification of HVAC systems, building optimization and much more.
TAB Technician Fundamentals Course
The TAB Technician Fundamentals course is a detailed, hands-on interactive program that will provide both classroom and technical instruction on basic instrumentation and procedures for air and hydronic measurements such as velocity, flow, pressure, temperature, rotational speed, electrical voltage and current, as well as correction factors and best practices. The course also covers topics such as electrical safety, fan types and systems, proportional balancing of air systems, air handling systems, ductwork and components, and basic hydronic systems and components. Classes are led by industry professionals and participants will have a mix of classroom instruction, technical problem solving, hands-on instruction with actual equipment and instruments. Daily homework assignments are provided to reinforce knowledge gained in the classroom. At the conclusion of the course, the participant will have learned valuable skills to be proficient in the use of basic air and hydronic instrumentation, basic balancing calculations (fan/pump laws, density correction, traversing, sheave and belt sizing, etc.), and have a basic understanding of air side and water side components and systems.
Prerequisites: None
Classroom Instruction Time: 20 hours
Hands-On Instruction Time: 15 hours
To learn more about our training programs or to register to attend, please contact our Training Center Manager, Derek Glenn.
We want to thank our partners for helping to make our training facility a reality.