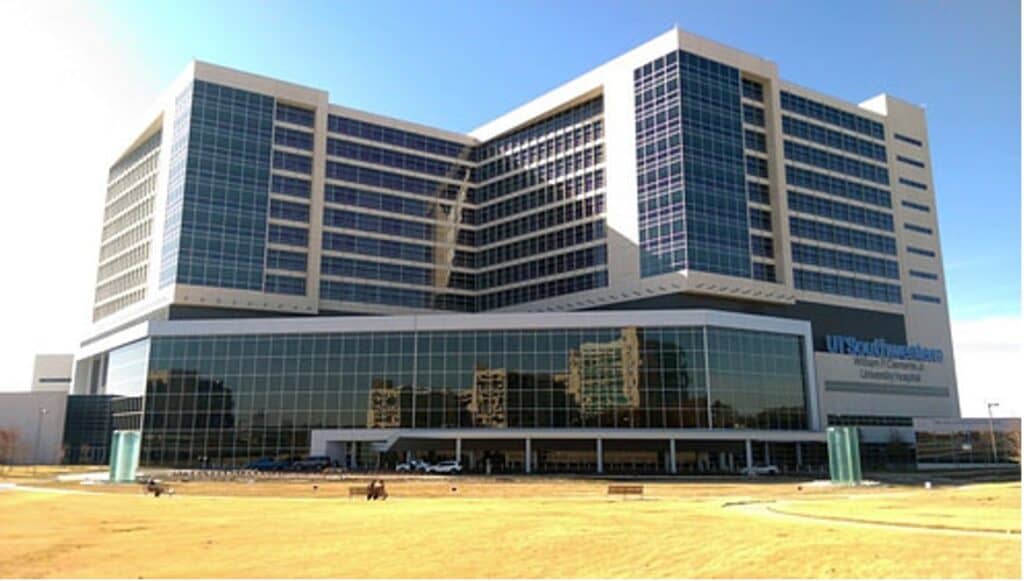 The Clements University Hospital is a 12-story, 1.3 million square foot facility located in Dallas, Texas. Dispersed throughout the entire building are 460 new patient rooms, 46 operating rooms, and 133 isolation rooms.
Since 1966, EAB has had a long-term relationship with UT Southwestern Medical Center. During the construction of Clements University Hospital, EAB was asked to assist with their Testing and Balancing and Building Commissioning needs.
During the initial design phase, we reviewed mechanical plans for balance-ability. During construction, we tested and balanced the HVAC systems, verified HVAC control sequences, developed and performed HVAC Functional Performance Tests and documented fire and smoke damper operation. We documented room pressure control and the air changes for isolation rooms, operating rooms and procedure rooms. We assisted with the Functional Performance Testing of the smoke control systems and assisted with the overall building commissioning.
Our teams were specifically equipped with the expertise to handle such a sensitive project. We believe that our work in the Clements University Hospital tower truly makes a difference you can feel.
"The difference really is our team. The size and scope of the project required our team to be well coordinated, extremely diligent and transparent with our client. Our team was technically astute to any challenges that arose and provided comprehensive reports and communicated directly to the client, giving them peace of mind. Our attention to detail, thoroughness, teamwork, and diligent adherence to our practices delivered an optimum operating facility."

– Michael Almaguer, TAB Project Supervisor